Our Philosophy
Indias largest and most respected outdoor and experiential education organisation which works with all stakeholders in the school to bring about a culture of happiness that guides everyone in their teaching-learning journey
"Text Books Tell – Experience Educates"
We Learn Best In Real Situations – When Emotions Are Heightened, And Challenge Pushes Us To Solve Problems.
1. Nature's Real Challenge
Feedback from challenging experiences in the outdoors is unbiased, immediate and teaches best.. Lessons for life such as overcoming challenges and tenacity are assimilated through action. They are clarified through facilitation and reflection. The key is to enable one to act: each student must overcome a hurdle, whether physical or mental.
2. Learning from our Peers
Seeing others overcome their fears liberates us from our own. The ability to overcome is enhanced by learning from how others respond to the same situation. Students thus build a repertoire of coping strategies to use when facing a challenge. Feedback about 'my style' as a team member and the impact of 'my actions' on team performance can be transferred to any group project at school.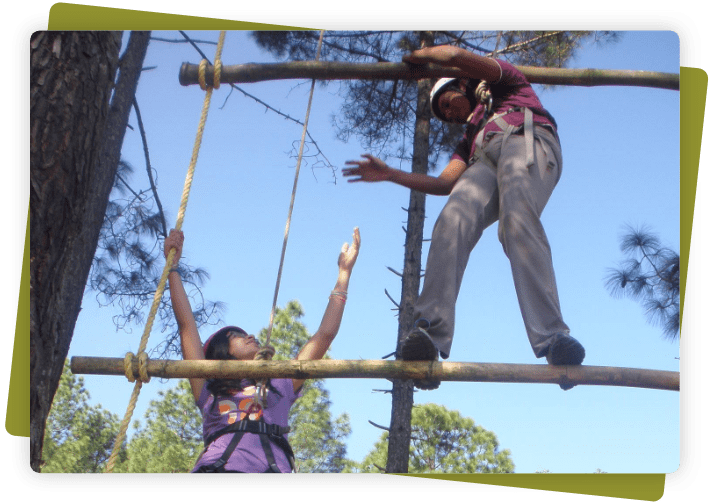 By simulating difficult but possible scenarios in the outdoors, students learn to adapt better when the real situation presents itself in life. It builds a sense of preparedness and confidence to take on challenges.
The children learn the skill of potential problem analysis— a key skill in planning for uncertainty.
In today's rapidly changing environment, students require much more than a high IQ.
our programs focus on 4 key areas:
• Self-esteem The knowledge that I am wonderful.
• Self-confidence The belief that I can.
• People skills The ability to get along with different people in various situations.
• Openness To new ideas, skills, and possibilities.
Adventure has a spectacular way of opening a child's mind beyond the classroom by enhancing a sense of awe and wonderment. • An unfamiliar yet safe environment excites students to try new things and take on challenges. • Learning by doing rather than hearing or watching lets students take charge of their learning. • Challenge by choice lets students step out of the comfort zone gradually. • Regular success experiences open a child's mind to the infinite possibilities within. As mental barriers dissolve, new courage, new confidence and new strengths emerge and participants learn to believe in and appreciate the immense potential they have within.